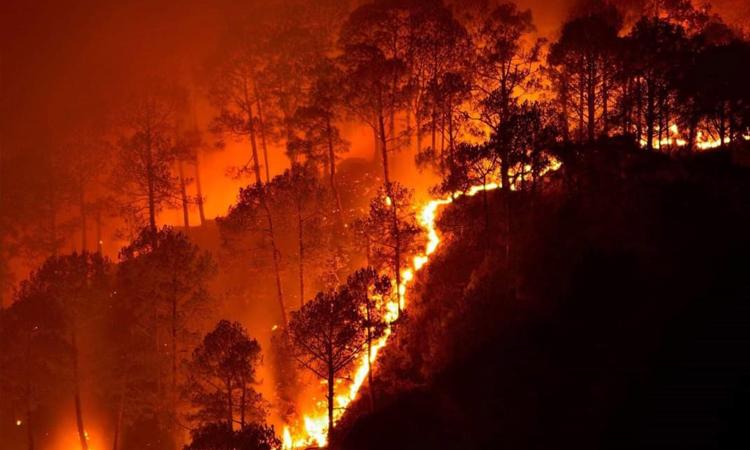 Leading members of civil society from across Odisha gathered to discuss their concerns and recommendations in a civil society dialogue hosted by the International Forum for Environment, Sustainability, and Technology (iFOREST) in Bhubaneswar against the backdrop of the state's increasing number of forest fire incidents. The discussion, themed "Forest fires, Climate Change, and NTFP Collection in Odisha," sought to further gain insight into the nature, causes, and effects of forest fires as well as to discuss mitigation and control strategies.
For numerous years, Odisha has continuously recorded some of India's highest rates of forest fire occurrence. According to data from the Forest Survey of India (FSI), the state endured 22,014 forest fire incidences during the most recent season (November 2021 to June 2022), ranking fourth highest nationally, while 51,968 incidences were reported during the season before that (November 2020 to June 2021), which was the highest in the entire country. According to news sources, the current season is probably going to follow a similar pattern of high numbers.
"Nealy 43 per cent of Odisha's forests is classified as moderately to extremely fire prone. The rising incidences of forest fires are exacerbating the state's vulnerability to climate change, as well as negatively impacting the state's rich biodiversity and forest resources," explained Mr Chandra Bhushan, one of India's leading environmentalists and Chief Executive Officer, iFOREST.
The civil society members in the debate, who came from a variety of organisations focusing on forest conservation, wildlife protection, and community support, all agreed that it was urgent to put an end to the state's increasing number of forest fires.
"It is very important to understand what constitutes forest fires in Odisha in terms of its nature and characteristics and then explicitly acknowledge the traditional knowledge of the communities in forest fire management" said Mr Giri Rao, Executive Director, Vasundhara.
"While there are forest fires ignited by natural causes, major contribution of human action cannot be denied. The government is currently not focused on this. There is an urgent need for strengthening efforts towards forest fire control and involve the community more deeply," said Dr Biswajit Mohanty, Secretary, Wildlife Society of Odisha, while calling for an improved understanding of forest fires.
Well-known Herpetologist, Dr Sushil Kumar Dutta, explained that "forest fires have an adverse impact on smaller animals and reptiles too. However, the focus is only on larger animals like the tiger. Fires not only cause deaths of these smaller animals and reptiles, but also affect crucial food systems."
Although the government has made large expenditures in enhancing fire monitoring and alarm systems, the control and management systems are still missing and insufficient. Focused action is further hindered by the lack of knowledge on the causes of these fires.
"In a bid to improve the understanding about forest fires in the state, we have undertaken a study focusing to understand the linkages between NTFP collection practices and forest fires. We decided to focus on tendu, because it is among the largest NTFPs being produced in Odisha and there is a known practice of using fires for procuring fresh green, good quality leaves. Also, the produce is ultimately being used for manufacture bidis which is estimated to cost the nation Rs 800 billion in illnesses and early deaths," explained Mandvi Singh, Programme Director, Energy and Climate Change at iFOREST.
The study discovers that tendu-producing regions in Odisha appear to have a particularly high sensitivity to forest fires using satellite data from NASA and ISRO. According to the report, 3,018 sq km of forest were estimated to have burned between 2011 and 2021 as a result of tendu-related forest fires, accounting for about one-third of the state's overall burned land during that time. According to estimates, these fires caused over 3.8 million mt of carbon emissions in 2021, which is almost 1.52 million automobiles' worth of emissions.
"Our study finds preliminary but strong evidence that there is a significant environmental impact of tendu leaf collection practice. We have also found through survey that while tendu is a good source of supplementary income for the dependent communities, it has not helped address the underlying poverty among forest communities," said Mandvi Singh, Programme Director, Energy and Climate Change at iFOREST.
iFOREST has surveyed 381 tendu-collecting households in eight villages in Angul district to find that the average earning of tendu-dependent households was only Rs 2,195 for 9 days of collection. "Relative to the economic contribution to the income of forest communities, the environmental costs are very high."
During the meeting, iFOREST also launched state-focused factsheets detailing these study results. These findings are part of a larger study undertaken for three major tendu producing states of Odisha, Chhattisgarh and Maharashtra.
A government-backed exploration and promotion of sustainable NTFP collection practices is crucial in the present scenario. Meanwhile, synergistic effort from all stakeholders are needed to address this urgent matter.
The study presents four major pathways in the provision of alternative livelihoods:
Promotion of non-tendu NTFP-based livelihoods
Tapping into agricultural schemes for the promotion of the agricultural sector
Leveraging livelihood schemes and other available funds to promote employment generation
Harnessing the potential of Payment for Ecosystem Services (PES) and carbon markets
The full study can be accessed here
Path Alias
/articles/urgent-need-coordinated-effort-put-out-forest-fires-odisha