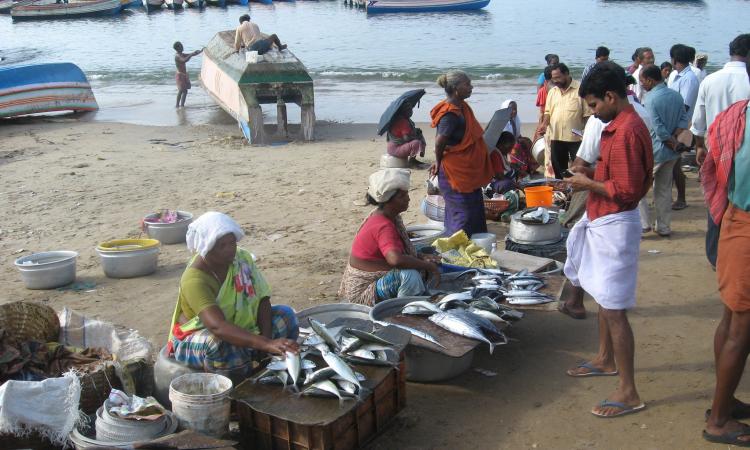 Technological innovations in agriculture and fishing have been thought to increase production, productivity, and income, alleviate poverty and reduce workloads. However, they can affect men and women differently by reinforcing gender inequalities, restrict access, and displace women as newly mechanised tasks become the domains of men.
The fisheries sector is no exception to this and it has been found that enclosure technologies in aquaculture or motorisation and mechanisation of fishing gears have ended up exacerbating existing inequalities among men and women.
The invisible work of women in the fishing community
Women's work in the fishing sector continues to be invisible resulting in its undervaluation in economic terms. Thus, while women's work often supports, helps and sustains men's fishing work, women are rarely involved in fishery related decision-making at local or national levels. Women's roles in pre- and post- harvest fishery activities remain largely invisible and research and policy investments continue to focus more on improving fish capture technologies that fall  under the domain of men.
However, women are not always only supplementary earners. This paper titled 'Both visible and invisible: women, risk-taking and the expansion of fisheries technologies in South India' published in Gender, Technology and Development describes how the widespread adoption of ring seine fishing technology in Cuddalore district of Tamil Nadu following the tsunami of December 2004, provided an opportunity for women to become financially independent and transformed their lives across a number of domains, including household finances, and their access to pre and post capture fishery work.
What is ring seine fishing
In ring seine fishing, the gear is operated near the shore area within a depth of 10-50 m and up to 12 nautical miles (nmi) from shore. Fishing units move to different areas in search of fish shoals and sea conditions, wind and current patterns, movement of seabirds and/or sea mammals are used as indicators for identifying presence of fish shoals by the fisherfolk. Once shoals are located, information is communicated to other units at sea or the shore and more units then move to the fishing grounds and shoals are encircled with the net towed at maximum speed to minimise fish escape.
The net with the fish catch is hauled to the mother boat. If the shoal is very big, partial harvest with scoop nets is done. Catch by small vessels is transported directly by the fishing units themselves to the landing centres and the small vessels return to the same ground to fish until the shoals are exhausted. Thus in a day, two to three operations are carried out by small vessels, depending on distance to the ground. In the case of larger crafts, while the vessel remains in the fishing ground and continues fishing, one or more carrier vessels associated with it are used to transport catches to the shore.
In the ring seine sector, ownership of the fishing units is either individual or collective. The individual ownership is restricted to smaller crafts, which are generally non-motorised or fitted with outboard motors (OBM). For larger sized crafts, the ownership is collective with the unit being owned by a group of fishermen who are share holders.
Ring Seine fishing in Cuddalore, Tamil Nadu
Ring seine fishing flourished in Tamil Nadu following the tsunami with Cuddalore district becoming a regional "hot spot".  Early success led to a rapid spread of the ring seine technology and huge investments were made in steel boats, more than 25 m in length, with in-board engines of over 500 hp. The size of the nets also increased and local fishers developed collaborative mechanisms for sharing the cost of nets and vessels, with groups of 20–30 fishers pooling both capital and labour, making ring seines available and lucrative for many. The craft remained unchanged, but a new gears with mesh size of 110 mm and a net size of 2000 to 2100 m were made making them closer to a regular purse seine.
This expansion occurred despite the Tamil Nadu Marine Fisheries Regulation (Amendment) Act of 2000, which banned the operation of trawl and purse seine gears in order to prevent exploitation of fish.  However, mechanisation and capitalisation of ring seine fisheries met with growing opposition from small scale fishers, due to concerns around overfishing and stock depletion alongside issues of fairness and social justice.
The government amended the Tamil Nadu Marine Fisheries Regulation Rules (1983, Article 17.7), banning all purse seine fishing with effect from February 17th, 2020. Loss of livelihoods has led the ring seiners to appeal to the Supreme Court of India for the provision of state support to enable the transition to alternate forms of fishing.
How did the ban on ring seine fishing affected women from the fishing communities?
While ring seines negatively impacted some small-scale fishers and fish stocks,  the low price and availability of fish made it easy for fisherwomen to access the market to purchase fish for vending and drying. Thus women from female headed households (widows, separated, or whose husbands were unable to work) took up fish vending out of financial necessity, because stigma prevented them from accessing loans or finding other employment.  
The availability of fish also increased competition in vending forcing women to travel longer distances to sell their fish or spend more time cleaning and preparing fish to increase the desirability of fish. It also opened up opportunities for women as auctioneers. Women did not have shares in ring seine vessels, but many played an important role in raising capital for men's ring seine investments, through contributing their jewellery, accessing family networks or private financiers for loans.
Women working as auctioneers, vendors, fish cutters and those drying fish, as well as wives of fishermen from two villages close to the Old Town harbor in Cuddalore district of Tamil Nadu were interviewed for this study ​​​​​​.
Women fish auctioneers in Cuddalore
Becoming an auctioneer needs skills such as voice strength, persistence, risk-taking, negotiation and persuasion. Fishing women from different economic levels, single women became auctioneers by relying on a network of women, be it mothers or friends to learn the skills required for auctioneering and to understand market relationships between traders, boat owners, and vendors.
As auctioneers,  women function as both moneylenders and merchants for larger, more profitable ring seine vessels. They advance money to vessel owners for capital and operational expenses (such as repairs) which is then retrieved through a percentage of the sales made at the fish auction.

Given the large catch sizes and the tendency for prices to fall, the auctioneers play a critical function in negotiating the best price possible through their bargaining skills, including the ability to persist and convince. Women auctioneers also become intermediaries for big traders who pick up fish from the wholesale and fish meal markets, though they are often unable to fix the price directly with the boat owners.
In addition to the advances, boat owners also expect a Pongal (harvest festival in January) gift to be distributed to the crew besides a small cut from the initial advance, so the auctioneer needs to add an extra sum of money to keep the advance amount stable. Auctioneers thus have to go through a complex process of juggling loans and speculating on profits. However, even if women auctioneers may help finance a boat, they are not considered owners or shareholders, and boats remain a predominantly male asset. Likewise, when a husband dies, his initial investment is returned to his wife rather than her maintaining a share in the vessel.
Auctioneers take five distinct, though interconnected routes to financing their work: (1) collective pooling of resources; (2) personal savings; (3) loans from private lenders; (4) loans from family and friends; and (5) savings in community chit funds.
Growing indebtedness
Although the expansion of ring seines across the state opened up opportunities for women to venture into more profitable roles as auctioneers, the scale of investments and accompanying expenses increased rapidly with the growing size of vessels. The ring seine ban in 2021 has had a devastating impact on women auctioneers, affecting their quality of life and wellbeing, and pushed them into growing indebtedness
The gradual increase in the amounts asked for vessel advances has left women auctioneers vulnerable as the amounts loaned can be beyond repayment from activities such as fish vending. Previously, auctioneers would manage large private loans by paying back significant amounts quickly to stop interest from escalating. Friends or family who had given smaller loans would profit from receiving yearly interest and treated the loan as an investment. As the future of ring seines have become uncertain and no income is currently being generated, lenders have started demanding for full sums loaned forcing women to cut expenses such as education, sell assets, and take out on more loans to payback those with higher interests.
Fish have become more expensive as the supply of fish is reduced and vendors compete among themselves for stock. Women are therefore unable to access fish for drying or vending at a profitable price, restricting the availability of this important income stream for families.
Women experience constraints in making best use of available technologies
The paper argues that it is important to understand the constraints that determine women's ability to access the opportunities created through new fish capture technologies and of how these differing gender constraints and contexts can make the impact of policy decisions uneven. The ring seine ban has had a devastating impact on women auctioneers who have invested large sums of money, yet are invisible when it comes to accessing compensation or industry funding intended for men involved in the fish catching sector. Even if men too have not been compensated, they can return to small-scale fishing or migrate for work. These options not available to women.
While post harvest work done by women in fisheries is important, it continues to be devalued as secondary and less important. There is hence little focus on supporting women to develop and expand their  businesses in the context of technological changes that seek to both modernise fisheries and enhance growth. Understanding the implications of the use of technologies of production from a gender lens is crucial at the policy level to improve visibility of women and encourage women participate equally in fisheries.
Path Alias
/articles/impact-fishing-technologies-wellbeing-fisherwomen-tamil-nadu