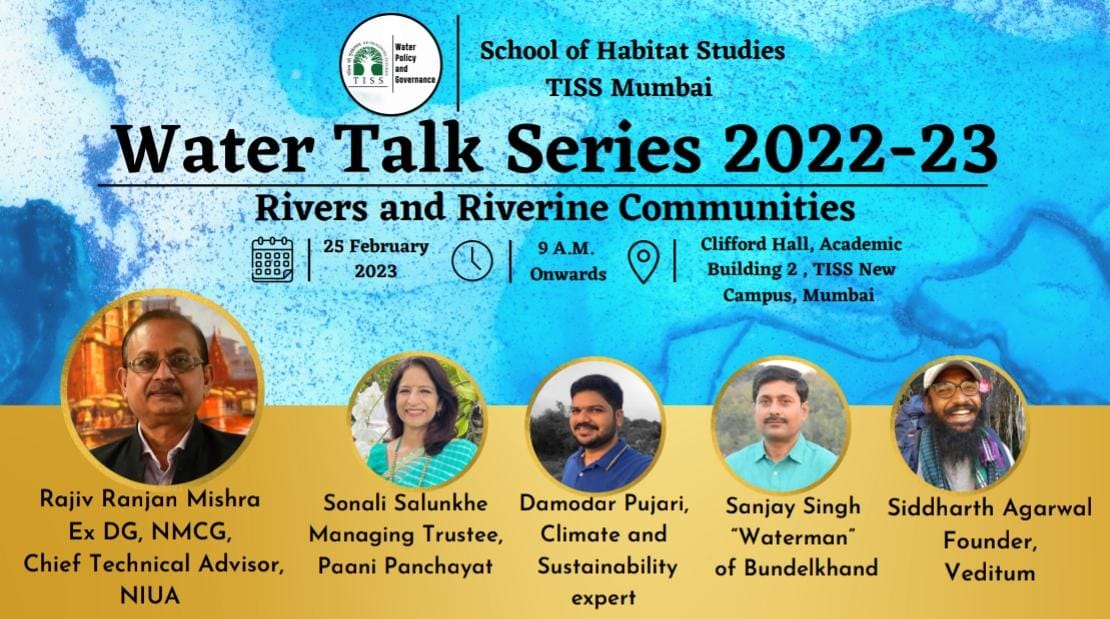 The Water Talk Series started in 2017 at the Tata Institute of Social Sciences to create an intellectual platform to discuss the issues in practice and policy critically. The event provides a space for water policy professionals, bureaucrats, academicians, and activists to share their opinions on the importance of water in the contemporary Indian situation.
The theme of the Water Talk Series 2022-23 will focus on 'Rivers and Riverine Communities of India,' their dependence on these rivers, and how we can move towards a more sustainable future for these communities. For the Water Talk Series 2022-23, we will be strictly focusing on the elements that impact these riverine communities and increasing the adaptability and resilience of these communities.
Rivers and Riverine Communities
India has a history of water management owing to its highly seasonal rainfall pattern. Water management has been a core component of the functioning of our civilisation. India's journeytowards providing clean, safe, and affordable drinking water to its citizens has witnessed many changes. Different sources have evolved, and various mechanisms are put in to extract water, crucial to sustaining 1.2 billion people, largely dependent on an agricultural economy. However, water is also essential in maintaining India's high energy needs while balancing the nation's food security.
'A tug of water' between different sectors in what is identified as a heavily declining resource calls for better management of India's waters. River ecosystems offer many ecological benefits, and rivers also have the potential to deliver a wide range of economic benefits. They have been the source of livelihood for numerous riverine communities whose livelihoods are dependent on water-related activities and established their roots along the Himalayan and peninsular rivers.
A good instance is a dependency on the Ganga-Brahmaputra basin, as almost half of India's population sustains along the riverbanks of this basin. The fast-paced growth of urbanisation, cultural practices, and industrialisation in the last few decades has increased the pollution level in rivers across India. Also, the discharge of untreated wastewater into rivers has contributed to a significant deterioration of water quality in rivers. The pollution of our rivers continues in various forms, and even today, it still has cascading effects on waterways and riverine communities.
Many flagship programs have been initiated by the GOI, such as the Namami Gange project, in an attempt to clean the river Ganga and adopt conservation measures to protect it. Across the world, rivers are the point of origin of many civilisations. In ancient times, India was referred to as the land of seven rivers, and on the banks of these rivers, civilization developed and saw the rays of prosperity.
Rivers are considered lifelines, but in the last few decades, the rivers are merely becoming a point of discharging various pollutants and other unwanted stuff. India's rivers are depleting and proportionally raising concerns not only about the life of aquatic species but also about the life of humans and our future.
Considering these above issues, the theme of the Water Talk Series 2022-23 will focus on the river and riverine communities of India, their dependency on these rivers, and how we can move towards a more sustainable future for these communities and also secure the future of Indian rivers which means ensuring for our better future.
Water Talk Series 2022-23
Organiser: Students of MA/MSc Water Policy and Governance, Batch - 2021-23 and 2022-24, Tata Institute of Social Sciences
Supported by Alumni of WPG
Theme: "Rivers and Riverine Communities"
Date: 25 February 2023
Time: 9 am
Venue: Clifford Hall, Academic Building 2 , New Campus, TISS, Mumbai
Speakers:
Dr Sanjay Singh

Better known as the "waterman" of Bundelkhand
 Doctorate in sociology
 "Jal Saheli" (water friends), which are women's groups in the villages in the Bundelkhand region in UP.
Siddharth Agarwal

IITian who majored in aerospace engineering
In 2015,  Siddharth founded Veditum — a research and media organisation working at the intersection of social, cultural and environmental issues with a mission to seek a grassroots-level understanding of issues.
The 'Moving Upstream' series is an attempt to document the rivers of India, bringing out first-person narratives as well as large-scale data archives on the rivers' condition and lives of the basin's people.
Siddharth walked along the Ganga for almost 3,000 km, from the oceans to the mountains, capturing stories of its people.
Dr. Sonali Salunkhe

Bachelor in Ayurvedic Medicine & Surgery in1995 from Sumatibhai Shah Ayurved College, Hadapsar Pune.
Post graduate proficiency in Panchakarma from Pune University
Dr. Sonali is Daughter of Shri. Vilasrao and Kalpanatai Salunkhe ,founder of  Gram Gourav Pratishthan, Pani Panchayat
She is Managing Trustee of  Gram Gaurav Prathisthan, Pani Panchayat, an NGO working in rural watershed development, organic farming, health and education
Motivating and inspiring farmers to be self-sufficient for their water needs, empowering women and youth is her regular activity at the trust
Damodar Pujari

A climate and sustainability expert with over a decade of experience working with the UN and other international agencies in sustainability, natural resource management, and climate change domains—Certified Project Management Professional with hands-on experience in Program Management, ArcGIS Suite, and Government engagement facilitation.
Master's in environmental studies.
He is currently working towards completion of Ph.D. from IIT Bombay.

Rajiv Ranjan Mishra

Chief Advisor and Chairman of the Strategy and Policy Unit at the National Institute of Urban Affairs, as well as an advisor to the Indian Institute of Technology (IIT) in Kanpur's Centre for Ganga River Basin Management and Studies. He recently retired from his position as Director General for the National Mission for Clean Ganga (NMCG), during which he transformed the Namami Gange programme into an integrated, multi-sectoral model framework for river rejuvenation in India.
Path Alias
/events/rivers-and-riverine-communities-india-water-talk-series-2022-23-students-water-policy-and